If you want to give your daily diet and general health and wellbeing a lift, we salute you!
Obesity is one of the top health problems facing our nation, with around 60% of Australian adults classified as overweight and 25% falling into the obese category.
But for those looking to boost their diet without having to live through months of tasteless vegetables and lifeless salads, have we got some news for you!
According to a recent study from researchers at the University of Granada, Spain, vegetables commonly consumed as part of the Mediterranean diet are actually better for you when sautéed in Extra Virgin Olive Oil (EVOO).
In an interview with the Sydney Morning Herald, co-author of the study Dr Cristina Samaniego Sánchez, said that the research involved boiling, sautéing and deep-frying vegetables in oil and showed that cooking with EVOO increased the levels of phenols – antioxidant-rich compounds known to be anti-inflammatory, which can also have a preventative impact on cancers and chronic illnesses.
"While comparing the total phenol contents of the fresh vegetables, we found both increases and decreases in their levels, depending on the cooking method employed," Dr Sánchez said.
"The EVOO increases the amount of phenols in the vegetables, in contrast with other methods such as boiling, which use a water-based heat transfer medium.
"We can conclude that frying in EVOO was the technique with the highest associated increases of phenols and can therefore be considered an improvement in the cooking process, although it also increases the calorie density of the food because of the amount of oil absorbed."
Australian nutritionist and dietitian, Dr Joanna McMillian, agrees that while keeping an eye on calories is important if you want to lose weight, having a balanced diet and making good foods more enjoyable to eat can actually assist with weight loss.
"Extra Virgin Olive Oil is a rich source of several antioxidants that are thought to play important effects in protecting cells in the body from damage," Dr McMillian says.
"Interestingly given that we have for a long time thought that eating fat makes you fat, more recent research from here in Australia and overseas is showing that high monounsaturated (MUFA) fat diets can in fact assist weight loss. This may be working in part by replacing processed carbohydrates with the healthy fat from olive oil and other high MUFA foods.
"It may also be simply because fat tastes good and so such a diet is far more palatable and easy to follow than the traditional low fat regimes."
Dr McMillian said that the study was a great example of the many benefits cooking in EVOO can bring to a balanced diet. Just make sure you choose certified Australian EVOO to ensure you're getting all of the benefits.
"Essentially this builds on the fact that we know many antioxidants and other phytochemicals need fat to be absorbed – taken a step further it seems that by actually cooking in the oil (as opposed to dressing or drizzling with cold oil) more oil gets into the vegetable itself and makes more of the phenols available as well as adding those present in the oil," Dr McMillan says.
"It's a lovely study as (it) shows us that cooking can be beneficial and indeed frying and roasting etc., in the right oil can also be a good thing."
To make sure your Australian EVOO is certified, check the bottle for the triangle certification symbol.
Stuck for ideas on how to sauté your vegetables?
It doesn't have to be Italian food! Any cuisine can benefit from using certified Australian EVOO, why not try these tasty treats:
We love this simple spicy chicken stir fry with so few ingredients, it's not only great for your budget it's a quick and easy mid-week meal for the whole family.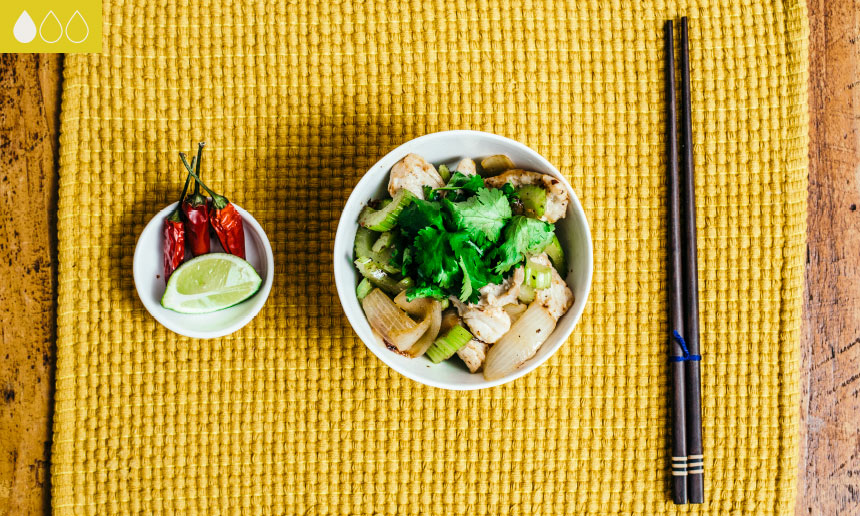 We love this sweet chilli stir-fry because it has the perfect balance between sweet and sour, with the sweet chili sauce, soy sauce and lime.