From the bright lights of Singapore and Sydney to her family farm's AGA stove, Westerly Isbaih has thrown a distinctively enthusiastic passion into everything she has set out to achieve in her flourishing foodie life.
Along with her father Robert Armstrong, Westerly co-founded multi-award-winning ALTO Olives in 2007 – now known as one of the finest olive and Extra Virgin Olive Oil (EVOO) brands in Australia.
But the father and daughter journey started well before they pasted a label on a bottle.
"The story of ALTO really starts with Dad, who had been coming to the property, which is now our farm, since he was a teenager," Westerly said.
"It's a stunningly beautiful place, high up in the central ranges, near Crookwell –  not far from Goulburn, it was traditionally a sheep and cattle farm, as are many of the properties around the area.
"When my father decided to relocate back to Australia in 1997, after many years living and working in Singapore, he bought the farm on a whim, but wasn't entirely sure what he planned to do with it.
"We often went there as kids when we came back to Australia for our winter holidays, so the farm always meant a lot to our family."
But Robert's love for olive farming came later – fortified by failure.
"Dad was gifted a bunch of olive trees by a neighbor when he first arrived back at the farm, and without knowing anything about horticulture he planted them all and they died," Westerly said.
"Those first failed plantings peaked his interest, so he procured another 500 trees from Tassie – and they all died.
"That's when Dad realised that if he was going to work with olives he would have to investigate them a little more."
After an educational expedition to Greece, South America, Italy and California, where Robert learnt about the many different varieties of olives, he returned to Australia where he studied with Professor Stan Kailis – one of Australia's olive growing pioneers.
"Through his studies, Dad gained an understanding of the link between soil, varieties and climate, and applied the knowledge to our farm. Then in 1998 he planted his third bunch of trees and they survived."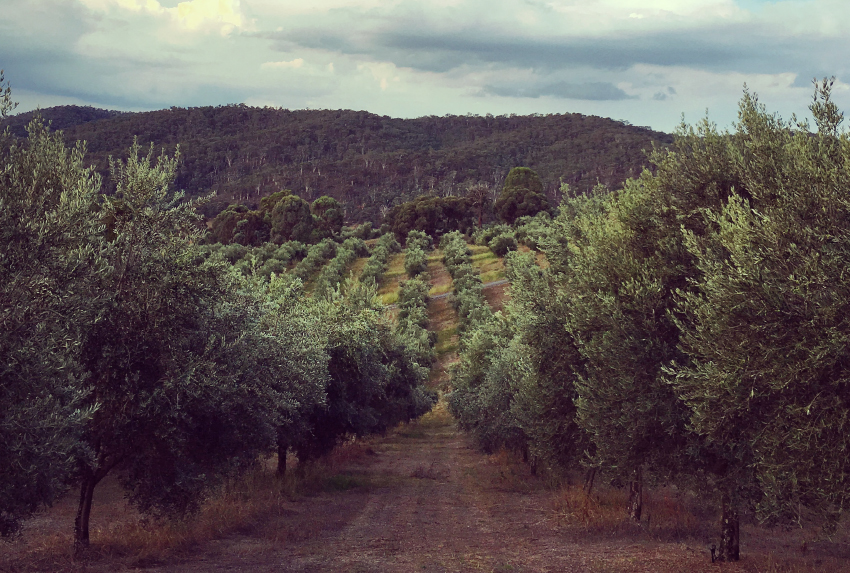 With their first harvest a few years later in 2005, Westerly fondly remembers excitedly picking all day with her family – the result of which was a miserly 11 litres of EVOO.
"It's only been 19 years and we now have around 20,000 trees, 15 different varietals, and our EVOO output is up to around 50,000 litres per annum – we also produce siginificant numbers of naturally brined table olives."
While always showing up for their family harvest followed by an Easter feast, Westerly said her involvement in the business came later – after her own journey of discovery.
"I moved to Sydney in 1997 to study acting at the Australian Academy of Dramatic Arts," she said.
"After drama school, I ended up venturing out and getting an agent but soon realised that being an actor meant you were out of work most of the time and auditions made me feel like I was part of some cattle call.
"It just wasn't for me in the end, so I focused on my other love in life – food."
Attending Le Cordon Bleu in Ryde, Sydney, Westerly completed a Diplome de Cuisine before doing a short stint in the kitchen at Bilson's Restaurant, whilst working in a sales and marketing role at Nicholas Foods – a boutique wholesale and distribution company.
"Tony Bilson was known as the Godfather of Australian Cuisine, so to be able to work in his kitchen every week, whether peeling potatoes, cleaning squid, or prepping salad was a valuable experience," Westerly said.
"Manu Feildel, who is now a judge on My Kitchen Rules, was the Head Chef at the time, and he  was really welcoming and taught me a lot. It was a great experience, but it was clear to me that I did not want to work in a professional kitchen for the rest of my life."
"I found that I really enjoyed wholesale and distribution because it was about connecting some of our amazing Australian producers and farmers with top restaurant kitchens, so I became more and more interested in the producer side of the food industry."
The turning point for ALTO came when Westerly's father starting winning awards for his EVOO.
"Dad was just selling his EVOO in bulk format to other growers until he started entering his oils into shows and winning gold medals," Westerly said.
"So, after a few years of helping him out with sales in a part-time role, my father and I made the decision to turn his hobby into a proper business – and so the ALTO brand was born."
Now the passionate driving force behind sales and marketing for ALTO, Westerly says that around 80% of their EVOO is sold via distributors to food service, while the other 20% is distributed to boutique retail stores, fine food grocers and Sydney farmers markets.
"The ALTO name refers to the farm's high altitude and cool climate," she says.
"Making great EVOO and table olives is really about our harvesting and processing techniques, as well as the varietals we have chosen for our unique location and growing conditions.
"The good flavor we get from our olives also has something to do with the diurnal temperature difference – when you have very warm days, which we do in summer, and then have a dramatic drop in temperature at night, this produces some complex, yet balanced flavours in our oils.
"To be honest selling ALTO is a walk in the park because it's a product I believe in from the bottom of my heart. It's a family business, which means so much to me, and high quality EVOO is practically the best thing in the world for people to eat, so it sells itself."
While she loves what she does, two of Westerly's key frustrations when it comes to the general public's understanding of EVOO are the lack of knowledge about its versatility, and the myth about not being able to cook with it.
"I feel like I'm constantly busting myths in my job," she said.
"A lot of people think EVOO has a really strong flavour, which is often because they've only tasted bad or old (rancid) EVOO in the past – due to this, people are unaware of the range of styles and flavor profiles available to them with good EVOO, which makes it versatile for a range of cuisines," she said.
"I'm also constantly telling people that "yes" you absolutely can cook with it – its amazing to me that it's still something that I come up against, but there you go.
"There are recurring myths that still need busting, and I feel like part of my job, whether it's for ALTO or just as an ambassador for Australian EVOO in general, is to educate consumers about how great it is."
So, what are Westerly's top tips for cooking with EVOO?
"I love making everything with Australian EVOO, but deserts and Asian food are interesting because it's not the first thing people would think of – I make a biscotti with orange zest and aniseed, using our ALTO Vividus EVOO, it's a fantastic recipe!
"I love making curries, and I make all my curry pastes from scratch, often using a delicately flavoured EVOO as my base.
"Good quality Australian EVOO tends to have a fresh character, and if you use a mild or delicate style EVOO when you're using strong ingredients like coriander, curry spices, ginger or turmeric (things that you think might clash), the EVOO does such a great job of highlighting those flavours, as opposed to overwhelming them.
"I've fed my curries to some of my Asian friends with very discerning palates and they've had no idea that EVOO was used as the base."
But come harvest time, Westerly says she can't go past the evocative flavour of freshly pressed, new season EVOO.
"I love food in general, from all cuisines and cultures, and all parts of the world, but one of my greatest culinary pleasures is something that I get to partake in every year on our farm specifically at harvest time.
"It's almost a ritual. I grill a piece of excellent quality sourdough on top of our wood fired stove till it has a good char on it, then I liberally slosh some of our fragrant, new season ALTO Novello over the top. This is followed by a sprinkle of good quality Australian sea salt. And that's it.
"That has to be, for me, one of the best things you can ever eat."