We've all heard about the Mediterranean diet, that includes a high proportion of vegetables, grains, Extra Virgin Olive Oil (EVOO) and moderate consumption of meat.
But did you know that research shows, the diet can not only be good for your waistline, it can also be good for your wallet?
With everyday vegetables and wholefoods replacing meat and expensive convenience foods, the Mediterranean diet is one of the few that allows you to have a healthy lifestyle on a budget.
To show you how easy it is, we've put together a list of our top 5 favourite Mediterranean meals using just 20 standard ingredients that you can pick up in any supermarket.
Here's to budget friendly, heart happy, healthy family meals!
Healthy Family Meals Shopping List
Certified Australian Extra Virgin Olive Oil (EVOO)
Lentils
Chickpeas
Milk
Greek yogurt
Parmesan cheese
Brown rice
Wholegrain spaghetti
Wholegrain flour
Lemon
Spinach
Green beans
Broccoli
Eggplant
Carrot
Celery
Onion
Garlic
Potatoes (sweet or everyday russet)
Tomatoes (fresh or canned)
In addition to these 20 staples, we recommend growing your own seasonal herbs and stocking up on essential spices to liven up any healthy family meal for less. For the following recipes, you will need: fresh basil, coriander leaves and parsley; dried rosemary and oregano; ground chili powder, cumin, turmeric, coriander seed, cinnamon, sea salt, and cracked black pepper.
Vegetarian spaghetti bolognaise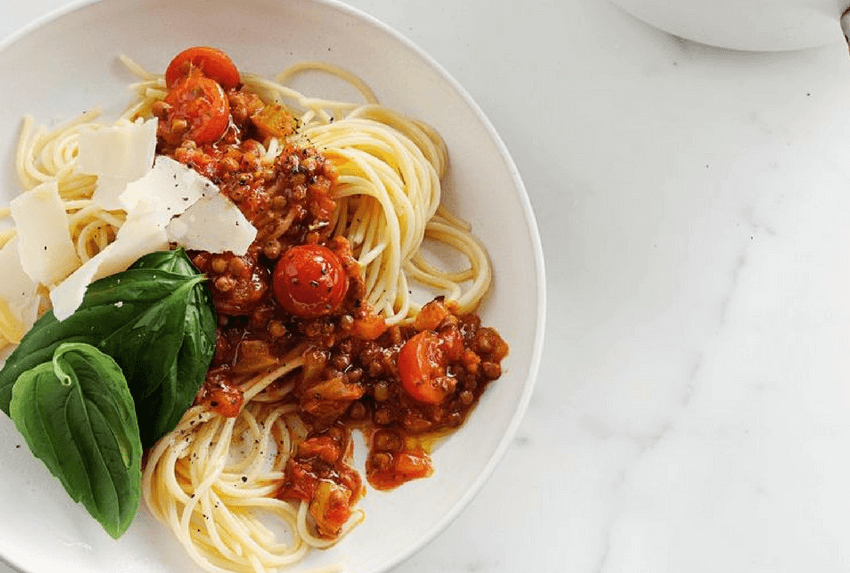 We love this simple and easy take on a traditional family favourite, replace beef and pork with soaked or canned lentils and you've got a delicious, nutritious and inexpensive meal for the whole family.
This recipe from Delicious calls for a jar of tomato sauce but you don't need all those unknown additives – keep it simple by adding a can of tomatoes, or (even better) chopped fresh tomatoes, with a pinch of salt, pepper and dried rosemary for the same delicious result.
Serve with wholegrain spaghetti, shaved parmesan and fresh basil leaves.
Moroccan chickpea and eggplant stew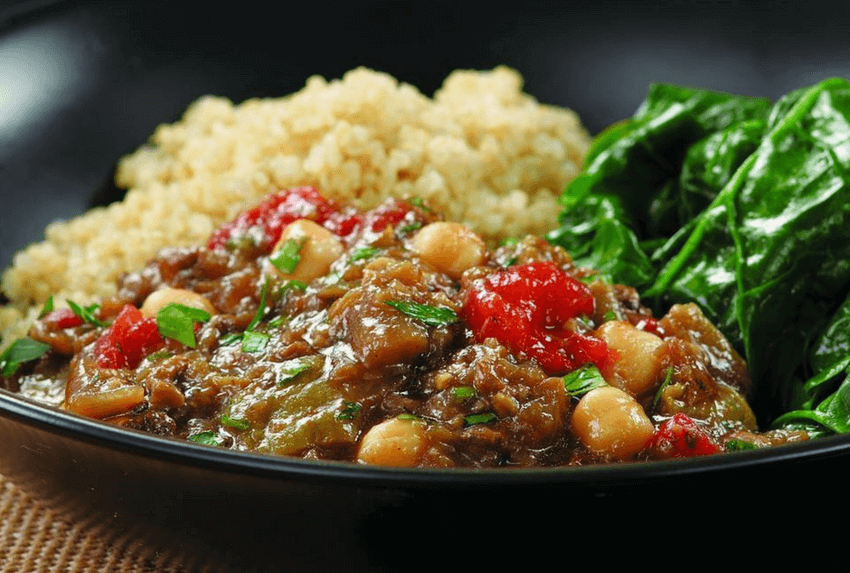 Eggplant is an underused and incredibly versatile kitchen staple that is rich in antioxidants, essential minerals, vitamins B1 and B6 and an excellent source of fibre.
You can almost smell the bustling streets of Morocco when you combine eggplant with the heady spice of cinnamon for this delicious dish from Eating Well…and for some serious weeknight kick we like to add a little cumin and chili powder, as suggested in this recipe from Food.com.
Serve with green beans, brown rice and a dollop of Greek yogurt for some zing.
Greek-inspired eggplant lasagne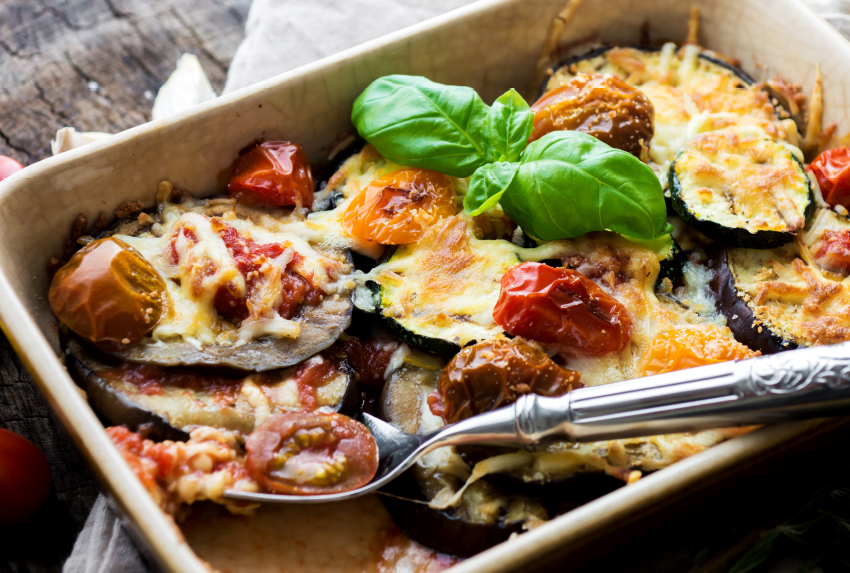 From Morocco to Greece, we're circling the Mediterranean for the perfect healthy family meals, and for those who love lasagna (who doesn't?) this one from the good people at Mediterrasian is a winner!
While the recipe calls for tomato paste, you won't need it – just simmer the sauce a little longer to reduce and you won't have to deal with the extra additives. You can also add feta or ricotta to the sauce, but there's no need as a béchamel made with a good slosh of certified Australian EVOO, wholegrain flour, milk and parmesan is rich enough for this delightfully delicious homemade recipe.
Serve with blanched broccoli dressed with lemon zest and a drizzle of certified Australian EVOO.
Spicy spinach and lentil dhal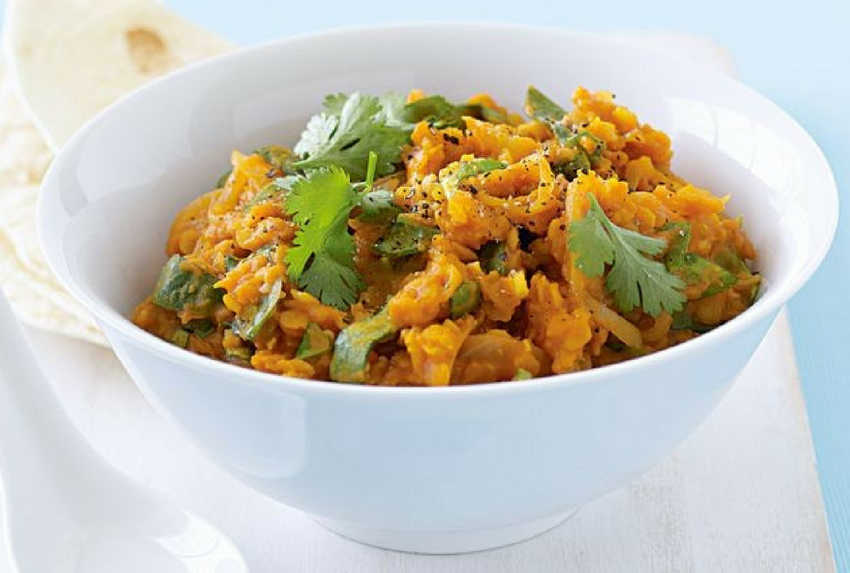 Ok so we're slightly off the map of the Mediterranean, but when it comes to weeknight meals there's nothing more simple, comforting and delicious than a freshly cooked curry.
Dhal is the darling of India and is oh so easy to cook in bulk for the whole family. Add a bit of extra heat to this simple spinach dhal recipe from Taste by mixing in a teaspoon of chili powder when sautéing the spices.
Serve with brown rice, a dollop of Greek yogurt and fresh coriander leaves.
Eggplant, lentil and potato hash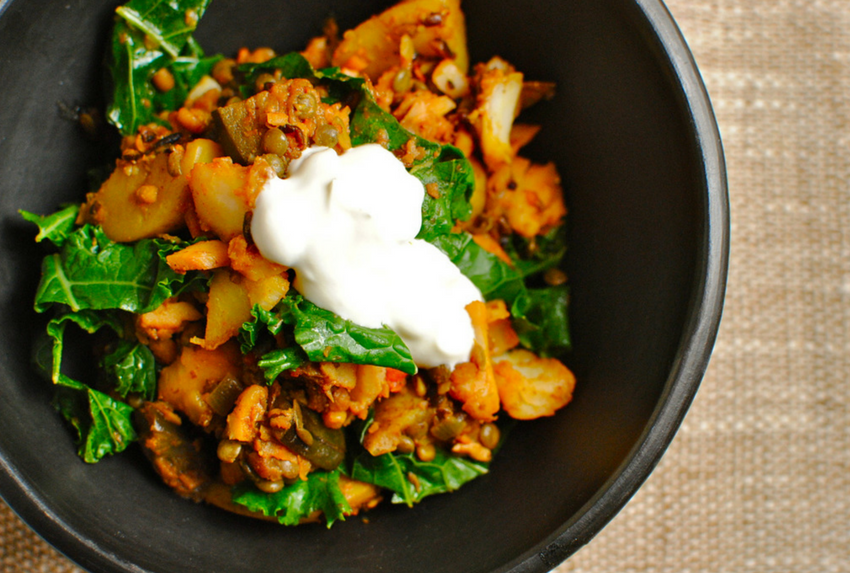 A good hash is a delicious and nutritious Friday night option for those who can't be bothered cooking and this one from Food to Glow is choc-a-block full of tasty and healthy ingredients so that you can share a block-of-choc during your Friday-night movie and not have to feel guilty about it!
Not only ideal for a Friday feast, this one doubles as the perfect brunch accompaniment to poached eggs.
Serve with blanched spinach, broccoli, Greek yogurt and a wedge of fresh lemon.
To make sure your Australian EVOO is certified, check the bottle for the triangle certification symbol.