In less than a decade, Greg Mathews has gone from growing ornamental plants at a horticultural business near Melbourne to producing what is regarded as some of Australia's best certified organic Extra Virgin Olive Oil (EVOO)
Based on a 1200-acre olive grove in the Grampians, Greg's family property, the Grampians Olive Co. is home to the region's historic Toscana Olive Plantation. But what prompted the move for Greg?
"My parents, Andrew and Susan, had spent some time in Italy and had experienced the joy of the olive harvest and freshly pressed oil, so it was always in the back of their mind that they would like to be involved in the industry," he said.
"I was looking for a career change, and so were they, plus we'd always loved the Grampians, so when the property came up on the market we seized the opportunity."
Established by immigrant farmer Jacob Friedman in 1943, the Grampians Olive Co. is home to one of Australia's oldest olive groves.
"Back then, the land was bare virgin country and a lot of work was required to establish the 28,000 olive trees that now make up the grove," Greg said.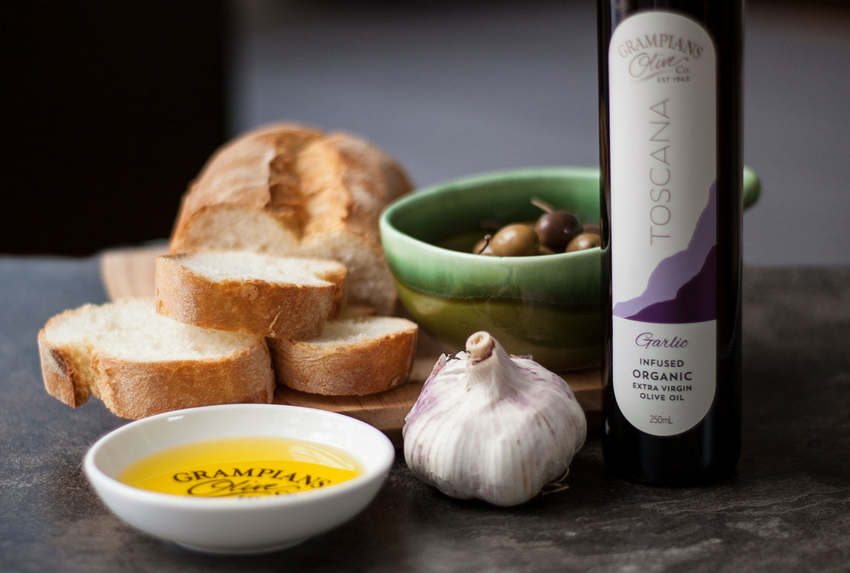 "Since the beginning the olive grove has been organic and dry land farmed, meaning we rely solely on rainfall with absolutely no irrigation.
"Today, all of the original trees and rare varieties remain – we haven't introduced any new plantings.
"So we have some of the oldest, if not the oldest, olive trees in Australia that are still harvested on a commercial basis.
"Having older trees, and with the main varieties being Verdale, Bouquettier, Mission and Benito, the yield is low, but the quality is fantastic. Many people appreciate the quality, over quantity and are willing to pay more for it.
"On average, we'd produce a litre of Australian Extra Virgin Olive Oil (AEVOO) per tree each year, so that's 28,000 litres. It's probably one tenth of the yield most olive oil growers would hope for – so you could say we're a boutique producer of certified organic AEVOO."
Over the years, different families, like the Mathews, have called Grampians Olive Co. home, and the grove has faced several challenges, including drought and bushfires.
"The property is right next to the Grampians National Park so there is a never-ending risk of bushfire," Greg said. "We have been here for one bushfire that burnt 3000 trees badly in 2014. But olive trees are pretty tough and they're coming back into production now.
"All things aside, the Grampians is a great place to grow olive trees because of the sandy soil and climate.
"There was previously an inland sea surrounding the Grampians, which caused a lot of sand and sediment to accumulate. This provides really good drainage in soils.
"The climate here is Mediterranean – we have really long, dry hot summers and cold wet winters – and the trees love it."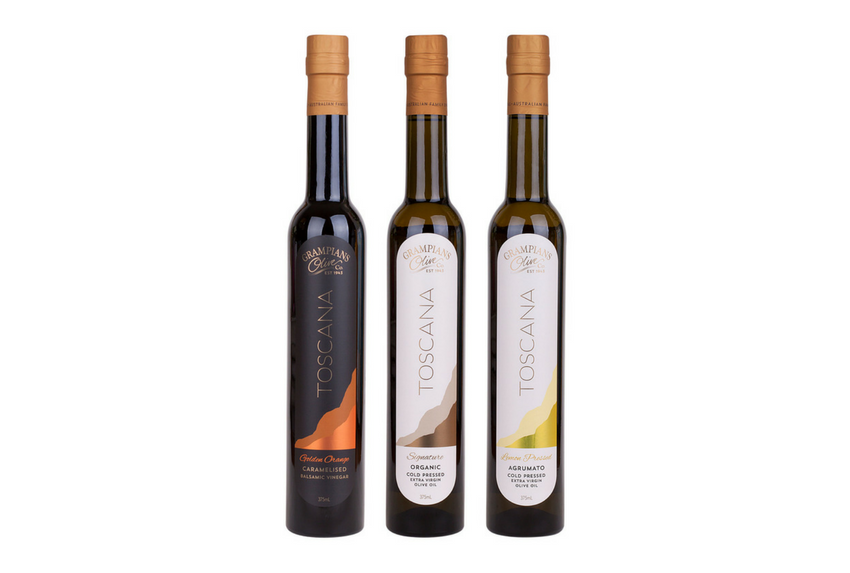 While their proud of the grove's history, the Mathews have modernised other aspects of the business, including processing and through the introduction of a range of infused oils, vinegars, and table olives.
"Another major change for us has been moving from hand harvesting to machine harvesting," Greg said.
"Hand harvesting is a slow process – with 28,000 trees it's just not physically possible to pick all of the olives when the fruit is at its optimum. When the olives aren't picked at the right time it results in higher acidity levels and lower quality fruit and oil.
"The traditional method of hand harvesting is done with stick and nets, so the fruit gets bruised and can get contaminated with the dirt on the ground.
"It's not often that you can say machines do a better job than doing it by hand, but we have certainly seen an increase in quality and lower acidity levels."
Since entering the world of AEVOO, Greg said he's noticed people are now a lot more aware of its health properties and that when it comes to quality, you get what you pay for.
"Public perception of AEVOO has definitely come along way. People are better educated than they were in 2008 on the health benefits of AEVOO and that imported oils from supermarkets aren't necessary what they say they are, these messages have definitely cut through."
Naturally, the Mathews family has a bottle of their own AEVOO on their kitchen table… permanently.
"No matter what the food is, steamed veggies, roasted meats or barbecued meats, we always cook with AEVOO and give the dish a generous drizzle before serving too," Greg said.
"If I had to say one meal that EVOO is best with, it would have to be pasta. Just coating pasta in AEVOO adds so much flavor, it's delicious."