For decades the myth that canola, sesame and peanut oils are the only oils you can use in Asian dishes has filled our cookbooks.
But myths were made to be busted!
The truth of the matter is that Australian Extra Virgin Olive Oil (AEVOO) can replace canola, sesame and peanut oils in all of your favourite Asian dishes.
With mild, classic and robust AEVOO being the answer to all of your shallow frying, sautéing, roasting and baking needs – no matter the cuisine – you can relish in the extra pantry space, and improve your health at the same time.
AEVOO is high in good (monounsaturated) fats and is also a winner when it comes to antioxidants, which means you're protecting yourself from heart disease and strengthening your immune system.
Tian Qiuming, the executive chef of the Great Wall Hotel in Beijing, said that olive oil is perfect for cooking Chinese food.
"Apart from use in cold dishes, olive oil is especially suitable for stewing, braising, and earthen pot cooking," he said.
"The ingredients don't absorb large amounts of olive oil as they do with other types, which will help reduce calories."
Celebrity chef Luke Nguyen swears by olive oil in many of his Vietnamese dishes, while Australia's top Japanese chef Tetsuya Wakuda uses olive oil in this confit of ocean trout recipe – of course, we'd recommend using your favourite mild AEVOO for this one.
Westerly Isbaih of ALTO Olives – one of the finest olive and Extra Virgin Olive Oil (EVOO) brands in Australia – also swears by using Australian EVOO in her homemade curry pastes.
"Good quality Australian EVOO tends to have a fresh character, and if you use a mild or delicate style EVOO when you're using strong ingredients like coriander, curry spices, ginger or turmeric (things that you think might clash), the EVOO does such a great job of highlighting those flavours, as opposed to overwhelming them," Westerly said.
So now that you have approval from the big guns to use AEVOO in Asian dishes, it's time for you to create your own three-course Asian feast.
Starting with a classic prawn and lime spring roll, which this time we are shallow frying in AEVOO. Yum!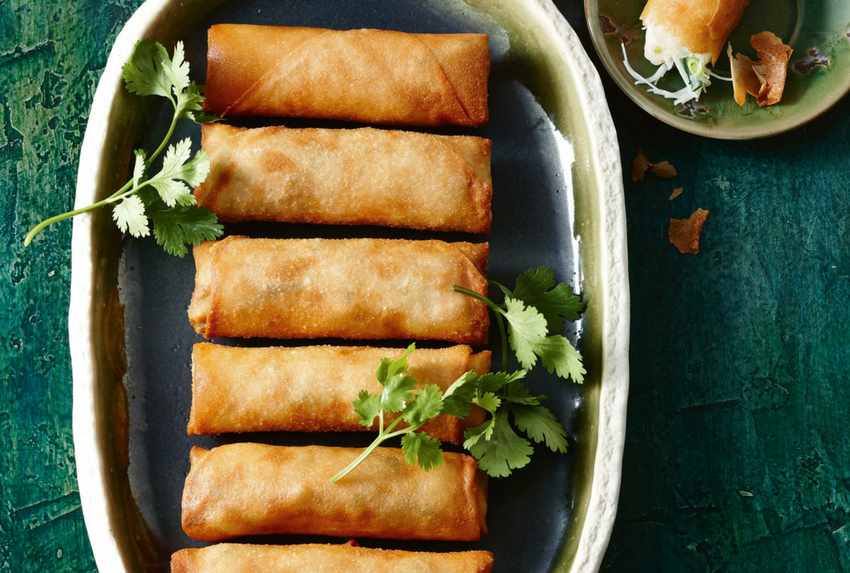 Prawn and lime spring rolls with chili mayo, photo credit – Taste
Prawn and lime spring rolls with chili mayo
INGREDIENTS
AEVOO for shallow frying
50g rice vermicelli noodles
400g green prawns, peeled, deveined, chopped
3 green onions, thinly sliced
10 snow peas, trimmed, thinly sliced
2cm piece fresh ginger, finely grated
1 tablespoon finely chopped fresh coriander stems
1/2 teaspoon finely grated lime rind
20 frozen large spring roll wrappers, thawed
Fresh coriander sprigs, to serve
Chilli mayo
1/2 cup Kewpie Japanese-style Mayonnaise
1 tablespoon lime juice
1 tablespoon sambal oelek (chilli paste)
1 tablespoon finely chopped fresh coriander leaves
METHOD
Place noodles in a large heatproof bowl and cover with boiling water. Let noodles stand for 10 minutes or until tender. Drain, refresh under cold water and then drain again. Cut noodles into 3cm lengths using scissors.
Place noodles, snow peas, prawns, onion, coriander stems, ginger and lime in a bowl and stir until combined. Place a wrapper on a flat surface with 1 corner facing you. Place 1½ tablespoons of prawn mixture in the centre. To make your spring roll, fold in sides of wrapper, then fold over the bottom corner and roll up to enclose filling. Brush the remaining corner with a little water and press lightly to seal. Repeat this process to make 20 spring rolls.
To make the chilli mayo, place mayonnaise, sambal oelek, lime juice and coriander in a bowl. Stir to combine. How easy!
Pour AEVOO into a large, deep frying pan so it is 5mm up the side. Heat AEVOO over high heat. Shallow fry spring rolls in batches for 5 minutes or until golden and cooked through. While cooking remember to continuously turn the spring rolls to ensure even cooking. Transfer to a paper towel-lined baking tray to drain. Serve with chili mayo.
Once you and your guests have finished the spring rolls, it's onto the main course – sticky pork noodles. The original recipe by Jamie Oliver has been made healthier by using AEVOO.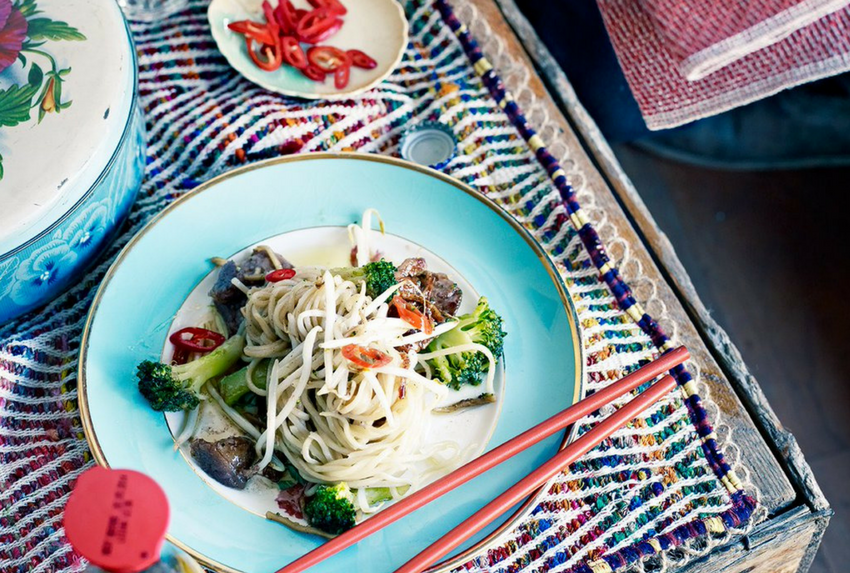 Sticky Pork Noodles, photo credit – Jamie Oliver
Sticky Pork Noodles
INGREDIENTS
1 tablespoon of AEVOO
350g free range pork tenderloins
300g broccoli
410g fresh free-range egg noodles or 240g dried noodles
2 cloves of garlic
3cm piece of ginger
200g beansprouts
1 fresh red chilli, optional
Marinade
1 dash of AEVOO
4 tablespoons low-salt soy sauce
1 teaspoon Chinese five-spice powder
1 teaspoon chilli powder
1½ tablespoons runny honey
1 tablespoon rice wine vinegar
METHOD
Mix all the ingredients for the marinade in a dish. Slice the pork into 4cm to 5cm strips, then add to the marinade and set aside.
Cut the broccoli into florets and cook in a pan of boiling salted water for 2 minutes. Add the noodles and cook according to the packet instructions. Drain, reserving a little of the cooking water. Set aside.
Peel the garlic and ginger, finely slice the garlic and cut the ginger into matchsticks.
Heat AEVOO in a large pan or wok over high heat, and fry the garlic and ginger for 2 to 3 minutes – until golden. Separate the pork from marinade (keep marinade in a separate bowl) and fry the pork for 3 to 4 minutes, until browned.
Now add the marinade and reduce the heat a little. Toss the pork to coat and fry for a few minutes until sticky, delicious and cooked perfectly.
Add the noodles, broccoli and reserved cooking water and toss. Once it's sticky, stir through the beansprouts for the final 30 seconds or until heated through. If you're using the chili, slice and scatter and serve at once.
Now, we know a dinner party wouldn't be complete without dessert, so let's try our version of Feast's favourite Korean sweet – Hotteok (brown sugar pancakes). We're replacing vegetable oil with AEVOO in this recipe.

Hotteok – Sweet Korean Pancakes, photo credit – Feast
Hotteok – Sweet Korean Pancakes
INGREDIENTS
⅓ cup AEVOO
1 tbsp dried yeast
½ cup lukewarm milk
1 tbsp caster sugar
1⅔ cups plain flour
½ cup glutinous rice flour
½ lukewarm water
⅓ cup firmly packed brown sugar
2 tbsp chopped salted roasted peanuts
Black sesame seeds and ice-cream, to serve
METHOD
Place yeast, lukewarm milk and caster sugar in a bowl and stir to combine. Set aside in a warm, draught-free room for 10 minutes or until bubbles form in mixture.
Sift flours together into a bowl and make a well in the centre. Add yeast mixture and ½ cup lukewarm water and stir to create a soft, sticky dough. Cover bowl with a clean tea towel and return the bowl to the warm, draught-free room for 1 hour or until dough has doubled in size.
Meanwhile, combine brown sugar and peanuts in a bowl, and set aside.
Punch down dough and place on a floured surface. As the dough will be sticky, you may need to add extra flour to knead. Divide into 8 equal pieces and, using floured hands, shape each piece into an 8cm round.
Place 1 tablespoon of peanut mixture in the centre of each round, bring up edges and press together to seal. Using your hand, flatten into an 8 cm disc. Repeat with remaining dough and peanut filling to make 8 pancakes.
Heat half of the AEVOO in a large, non-stick frying pan over medium-low heat. Work in batches to cook pancakes for 7 minutes or until cooked through, flip halfway. Remove pancake from the pan and drain on paper towel. Wipe the pan and repeat with remaining AEVOO and pancakes. Scatter with sesame seeds and serve hot with ice cream.