Who doesn't remember the excitement of making and eating rum balls as a kid?
A 1960s-housewife staple, they were probably the first thing many of us made in a kitchen, overseen by a babysitter or grandmother who always added slightly more rum than the recipe called for.
Well, for those with nostalgic memories of the humble rum ball you'll be happy to know, they're back…only now they're coated in low-sugar, alcohol-free good intentions.
The new-age rum ball is angelically termed the "bliss ball", and in spite of the exclusion of "fun" ingredients – there'll be no condensed milk lid-licking involved in making these babies – they're actually rather delicious.
In search of the perfect choc bliss ball we've trialled a number of recipes at Everyday, and have come to the conclusion that roasted almonds and hazelnuts, medjool dates (with their sweet sticky consistency), and a slosh of Australian Extra Virgin Olive Oil (AEVOO), make the tastiest and healthiest base for the most decadently delicious bliss balls around… and if you want to add a splash of rum, we won't stop you!
CHOC BLISS BALLS INGREDIENTS
1 tbsp mild AEVOO
1 cup of medjool dates
3/4 of a cup of roasted almonds
3/4 of a cup of roasted hazelnuts
2 tbsp of chia seeds
1 tbsp of raw cacao powder (extra for rolling)
Desiccated coconut (optional)
Rum (optional)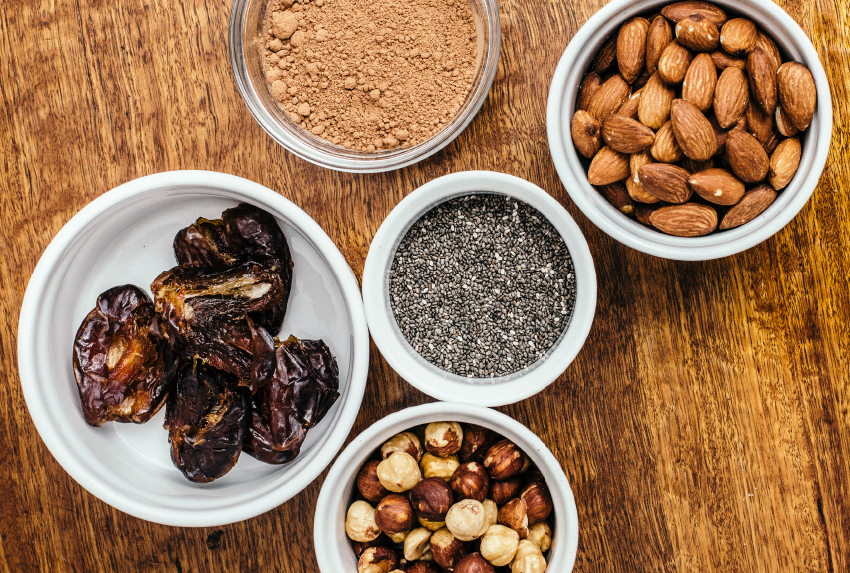 METHOD
Place all of the ingredients in a food processor and whiz until a dough forms.
Use your (clean) hands to roll the mixture into tablespoon-sized balls and roll in raw cacao powder (or desiccated coconut for an authentic rum ball look).
Place rolled balls on a plate or tray lined with baking paper before chilling in the fridge for an hour, or until solid.
When you're ready to serve, dust with extra raw cacao powder or desiccated coconut for the perfect finish.
Choc bliss balls should last for a week in a sealed container, and are ideal for a guilt-free after-dinner treat, or a 3pm snack at your desk.